Smaller Housing Associations Conference
October 1, 2021
Our Group CEO Mathew Baxter presented at the National Housing Federation's National Smaller Housing Associations Conference and Exhibition at the Business Design Centre in London on 30th September.
He spoke in a session entitled "Creating the Critical Mass for a Strategic Maintenance Procurement" alongside Geoff Parkinson, director of procurement at Fortem.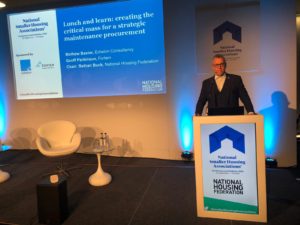 Other speakers at the event included Professor Trevor Williams, Chairman, Institute of Economic Affairs, Shadow Monetary Policy Committee; Piers Williamson, The Housing Finance Corporation and Lord Deben, Climate Change Committee.
echelon and Fortem sponsored the two-day Smaller Housing Associations Conference which examined a mix of strategic and practical content, tailored to smaller housing associations
Mathew's presentation, which focuses on how two smaller housing associations joined together to create a strategic housing maintenance and investment procurement, is able to view here.