Milestone for flexible fleet framework
September 28, 2021
Over 1,000 vehicles have now been procured through Pretium's Flexible Fleet Services framework delivered by Northgate Vehicle Hire. 
Originally launched in 2017, the PCR 2015-compliant framework was reprocured in April 2021 in partnership with our Contracting Authority Watford Community Housing. 
Designed to tune into organisations' individual business needs it gives framework users complete operational flexibility and immediate access to stock vehicles with local support from Northgate's growing network of 67 locations.  
The first one-stop-shop rental offer of its kind, it provides a full mobility solution covering servicing and 24-hour breakdown assistance, and includes the option to procure fleet management services, fuel cards, accident management and much more.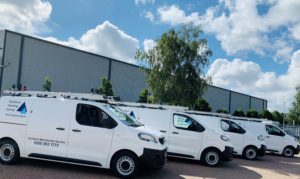 The 1,000th vehicle was delivered to Southern Housing Group which has recently procured 52 vans through the framework.  
The fleet of mainly Peugeot Expert and Partner vans will be used by SHG's maintenance teams based in the Isle of Wight, Kent and South East London to deliver day-to-day responsive repairs to its homes.  
The framework is also structured to help organisations prepare for the transition to more sustainable fleets with access to electric vehicles, as well as support to understand EV charging infrastructure, and this was a big driver for SHG, as it considers what its fleet may look like in the future. 
"We prefer to use frameworks as it gives us an effective way to tender our requirements and procure services quickly," explains Director Southern Maintenance Services Carl Dewey. 
"The key benefit of Pretium's fleet framework is flexibility. We have the ability to switch to electric vehicles part way through our five-year agreement, as part of our drive towards carbon reduction targets, as well as being able to scale up quickly, if required."