AMIP & CAMIP: Strategies to tackle labour shortages and attract new people into the sector 
January 12, 2022
Staff and labour availability was the theme for the December meeting of AMIP and CAMIP, the Echelon Group's best practice and benchmarking clubs. 
Chris Ewart, CEO and Ryan Smart Director of Blue Collar & SouthWest Office at Build Recruitment gave a presentation on labour shortages in the UK market. 
They began with an analysis of the current state of the labour market and the primary causes of labour shortages explaining that there are currently 1.2 million vacancies in the UK, an increase of nearly 400,000 on pre-pandemic levels. 
There are many factors impacting the smaller labour pool and COVID and Brexit have both played a part with 200,000 European citizens leaving the UK last year driven by Brexit and many people choosing not to return to their previous roles post-lockdown. 
They went on to outline measures and actions which can be taken to help resolve these issues, offering guidance on how to attract, train and retain staff, including cross-sector utilisation of transferrable skills, focusing on diversity and inclusion and engaging former Armed Forces personnel. 
The presentation also detailed strategies for attracting the best candidates and retaining talent within organisations, through practices such as developing comprehensive workplace recognition programmes and upskilling and training that genuinely benefits employees. 
Carol Lynch, Chief Executive of the Construction Youth Trust spoke about engaging with young people and supporting them into the sector. 
She outlined CYT's vision, giving examples of how it is working with young people in schools and colleges and inspiring them to achieve their full career potential, and showed some videos featuring students who had engaged with the charity. 
Carol also put together a multiple choice quiz to gauge participant's knowledge on several key issues, with some surprising answers that gave attendees plenty to think. Questions included: 
How more likely are you to get a professional job if you come from a privileged rather than working class background? 

 

12.4% of young white people were unemployed in Q4 2020, what % of young black people were unemployed in same period? 

 

How much does the built environment contributes to the UK's total carbon footprint? 

According to the Climate Change Committee, how many billion will we spend to retrofit our homes over the next 15 years?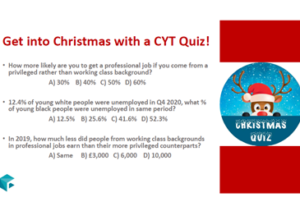 The meeting was rounded off with questions from attendees and a group discussion which included topics such as the importance of recognising transferable skills, and working to change parents' perceptions of construction careers as part of the drive to attract more young people into the sector. 
The next AMIP and CAMIP meeting will be held in March. The agenda is yet to be announced but watch this space for more information. 
Want to know more about the best practice and benchmarking clubs? Email Rachel Smith at rachel@echelonconsultancy.co.uk for further information on the benefits of joining the groups, which include access to our Disrepair and COVID groups. 
Read next: Contract price adjustment – what can we do in the current market?